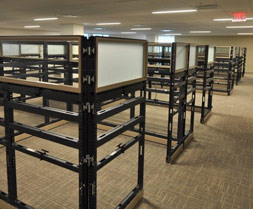 OTHER SERVICES
OTHER SERVICES
Furniture Installation/Reconfiguration
Systems Connection will install and reconfigure new and existing furniture systems, including panel systems, case goods and floor to ceiling wall systems. Our installers participate in factory training and are certified in multiple major furniture lines.
Relocation
Systems Connection will safely and professionally transport your furniture assets using our full fleet of vans, trucks and tractor trailers. Systems Connection, when required, also partners with professional moving contractors for larger moves.
Service Contracts
Systems Connection has and will engage in long term "Furniture Service Contracts", tailored to your business or agency's specific requirements.
Warranty Work
Systems Connection has and will contract with furniture dealers and manufacturers to do warranty and maintenance work. We are "Certified and/or Factory Trained in multiple major manufacturers furniture systems.
Receiving &Delivery
Systems Connection will receive and redeliver your furniture through our professionally staffed warehouse. Deliveries are inspected for damages/deficiencies, and dealer/manufacturer is notified upon receipt. We can also provide furniture repair or touch-up service, before final delivery, if necessary.
Warehousing/Storage
Systems Connection has the capability to provide storage, short or long term, in our climate controlled warehouses.
Recycling/Disposal/Liquidation
Systems Connection recycles all metal, wood and cardboard. We will dispose of customers furniture assets using the latest Greening Procedures, or assist in liquidation of furniture assets by partnering with brokers.
More Services
Systems Connection also has the capability to:
reupholster seating, panels etc,
refinish and touch-up wood/laminate furniture
paint furniture using electrostatic and standard processes